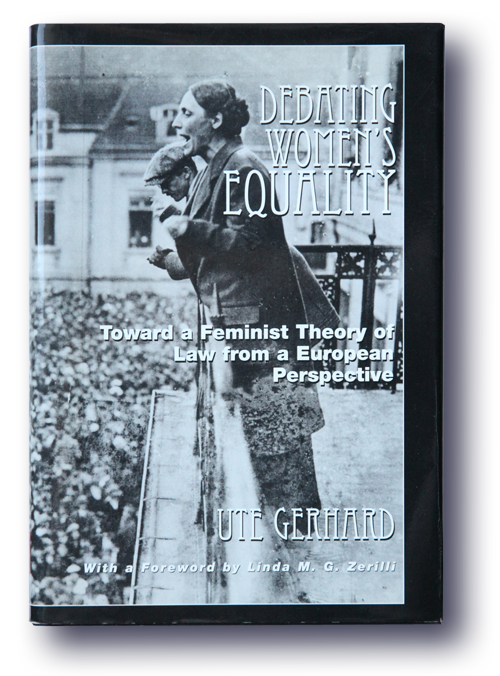 Toward a Feminist Theory of Law from a European Perspective
New Brunswick, New Jersey and London: Rutgers University Press 2001
ISBN 0 81352905 0

From the Foreword Linda M. G. Zerilli
Ute Gerhard's Debating Women's Equality—Toward a Feminist Theory of Law: A European Perspective is an important contribution to feminist scholarship. Originally published in Germany, the book was written in a national context in which feminists have tended to view a rights-based strategy of social change as extremely limited and dangerously state centered. Although American feminists, in contrast, have and large accepted this legal strategy as an important dimension of political struggle, they too have raised concerns about the restrictions it places on feminist theory and practice. These concerns turn primarily on the question of difference: the difference between women and men, on one hand, and the differences among women, on the other hand. Indeed feminists in both countries are skeptical of the principle of equality because—apart from the obvious gap that exists between the ideal of equality and the tenacious reality of inequality—that principle appears to establish sameness as the condition for women's legal recognition and social justice and, consequently, to erase multiple articulations of social and sexual difference.
Ute Gerhard is sympathetic to the concerns that motivate feminist criticisms of equal rights, but, she argues, we should examine the extent to which they may be grounded both in a series of misconceptions about the principle of equality itself and in an inadequate historical understanding of the struggle for gender justice. Reminding us that "equality is neither an absolute principle nor a firm standard, but a relational concept," Gerhard insists that equality is not reducible to identity and thus sameness. Although one can express this difference mathematically—"the formula for identity would be a=a, while equality would be a=b"—the purpose of Gerhard's book is to weaken the hold that abstract logic has on our thinking and to enhance our capacity to make political judgments.
[…]
Attending to the play of difference in the polyvalent historical articulations of equality as a political and legal principle, Gerhard distinguishes equality from identity (or sameness) and argues for equality as a potentially progressive principle that is vital to feminism. She is appropriately critical of the highly philosophical character of the sameness-versus-difference debate in American circles, which has tended to neglect context and to elide crucial national differences of history, culture, and law. Gerhard takes feminist legal theorists like Catherine MacKinnon to task for, first, interpreting the question of equal rights strictly according to American legal institutions and then generalizing this interpretation as if it were a global problem of Aristotelian legal reasoning (according to which equality amounts to treating likes alike). MacKinnon's conclusion that the legal concept of equality presupposes "sameness" or identity, cautions Gerhardcan not be indiscriminately applied to European countries, whose constitutions never embraced this sort of reasoning.
Gerhard's critique of the sameness-versus-difference debate in American feminism is meant to highlight once again the importance of contextualizing equality in contrast to determining its meaning "at the level of doctrinal formulas and 'argumentative logic.'" If "equality is neither an absolute principle nor a firm standard [but] a dynamic, discursive concept," as Gerhard argues, it may indeed be premature to proclaim the death of rights-based feminist projects. The approach to equality that Gerhard finds and celebrates in the closing declaration of the Fourth World Conference on Women, held in 1995, in Beijing, take's as its empirical and theoretical starting point the experiences of women and their political expression in various women's movements. Employing Winfried Brugger's phrase "exemplary experiences of injustice," Gerhard attempts to clear an intellectual space in which it would be possible to reconstruct an argument for equality that avoids the twin pitfalls of abstract universalism and cultural relativism. She does not produce a formula for equality or a model of legal reasoning that could be applied in rule-like fashion to every particular case. Rather she directs us to attend to the social and political context in which equality arguments are made and to the importance of a third party for making claims with universal validity. More importantly, she reminds us that equality claims are political judgments that "cannot be imported or prescribed; they apply only if the people involved are in a position to claim and defend them as rights." In short, Debating Women's Equality directs us back to the quotidian practice of feminist activism.

Contents
Acknowledgments
Introduction
Part I
The Meaning of Equality with Regard to Difference…
In the Footsteps of the Philosophers: The Historical Significance of Equality
Human Rights for Women as Well as Men: Olympe de Gouges's Counterproposal
Equal Rights or Women's Distinctiveness: The Program of the First Women's Movement
Interim Remarks: Equal and Different
Part II
"Getting at the Root of the Evil": Legal Struggles and Legal Critique Radicals in the First German Women's Movement
Gender Tutelage: Women in Nineteenth-Century Legal Doctrine
Human Rights Are Women's Rights: Dimensions of Feminist Legal Criticism
Notes
Appendix: The Declaration of the Rights of Woman and Citizen
Index
➜ List of Contents (PDF)